"A drum is a woman" - Duke Ellington
Drummers of every background and taste usually have a holy grail that they're searching for.
For some it's the Ludwig Black Beauty snare drum. For others, It's the Slingerland maple steam bent shell Gene Krupa snare.
Others collect drums of specific companies only. There are some collectors who collect only drums of one specific color regardless of company manufacturer.
But for me the Holy grail has been the Rogers Dynasonic wood snare drum.
I'm not sure how I got hooked on this particular drum. Perhaps it's because some of my favorite drummers played the drum, notably Buddy Rich and Louis Bellson.
In any case, I've been extremely fortunate to be able to own and play a number of these fine instruments.
It must be mentioned here that not everyone agrees that these drums are fine instruments. They are finicky and there are as many people who swear at them,but still who swear by them.
What follows are a number of beautiful examples of these drums. All of them have "stories". Some are parts of complete kits. Others are "orphans".
Enjoy them.
Jim Glay
---
My Vintage Dynasonic Snare Drum Collection
The drums featured on this page are currently for exhibit only.
However, if you would like to discuss purchasing any of these drums, please send me an email and we'll talk.
I believe that this is one of the largest single collections of
wood Dynasonic snare drums in the world - enjoy!

Jim Glay
---
Dynasonic : Red Wine Ripple : Early 1960's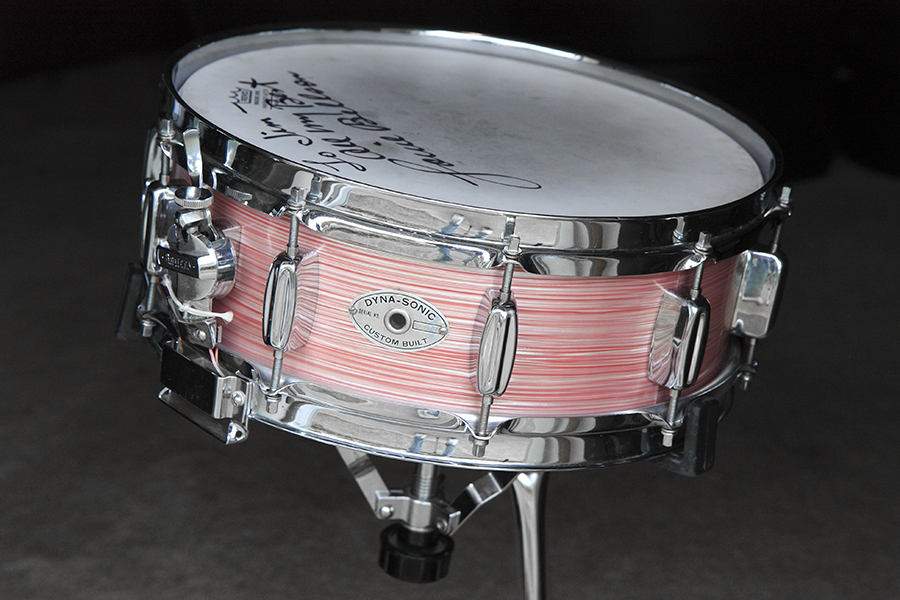 A wood Dynasonic in Red Wine ripple wrap. This is an early Dyno with brass lugs. The signature on this drum tells it all - ;Louis Bellson was a giant of a human being and a supremely gifted musician. When I talked to him about this drum, he shifted the whole conversation to a drum tour he did with Buddy Rich in Japan in the 60's. Louis was playing a wood Dyno and so was Buddy, except Buddy became enraptured with Louie's snare drum and asked him for it. To my knowledge, Louie never gave up that drum.
Dynasonic : Green Sparkle : Mid 1960's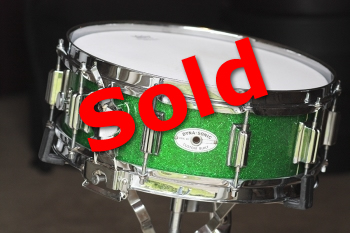 A wood Dynasonic in green sparkle. A 60's model with beavertail lugs. This drum is part of a complete kit that includes a 20 inch kick drum, 8x12 hanging tom, and 14 x 14 floor tom, It was purchased from a collector in Toronto, Canada. It's a warm, responsive snare that really "sings" when pushed. A very fine example of a wood Dyno.
Dynasonic : Silver Sparkle : Mid 1960's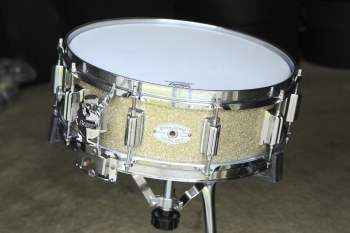 A wood Dynasonic in silver sparkle. Another 60's model with beavertail lugs. This Drum is extremely clean and the "crushed glass" effect in the finish really stands out. This drum is also part of a complete kit and it is clearly the finest drum in the lot as far as the finish goes.
Dynasonic : Blue Sparkle : Mid 1960's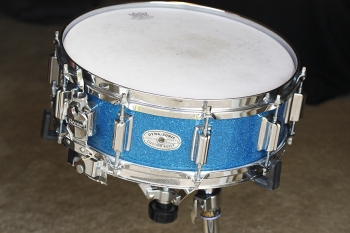 A wood Dynasonic in blue sparkle. A 60's model with beavertail lugs that also shows the "crushed glass" finish to great effect. This drum too is part of a complete Kit. Again, the tone and response is quite exceptional.
Dynasonic : Red Sparkle : Mid 1960's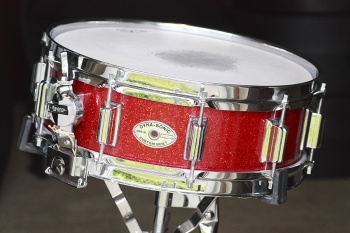 A beautiful red sparkle wood Dynasonic. This drum still has it's original heads on it. It is part of a complete kit that is a mix of beavertail and bread and butter Lugs. The previous owner had traded it in for a newer kit.
Dynasonic : Grey Slate : Early 1960's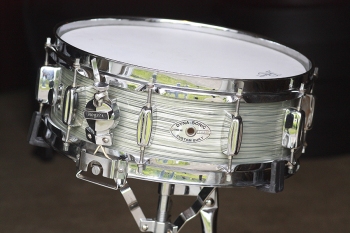 An early wood Dyno with bread and butter lugs wrapped in a rare grey slate Finish. This is a beautiful drum. Again, very responsive.
Dynasonic : White Marine Pearl : Mid 1960's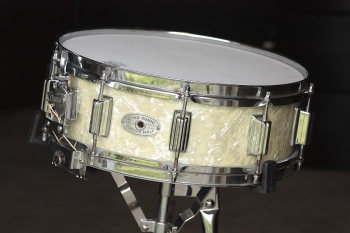 A wood Dyno wrapped in white marine pearl. This Dyno is also part of a complete Kit. If the serial number is any indication this drum was one of the later Dynasonic's.
Dynasonic : Silver : Mid 1960's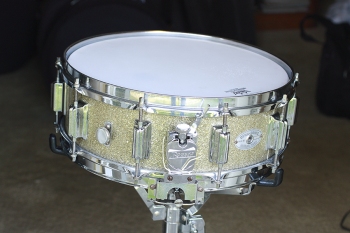 Yet another silver wood Dynasonic. It was in pieces and had to be almost rebuilt from the ground up. It was hidden on the top shelf behind various other drum accessoies. It took some work, but the end result is quite satisfying. Another great sounding drum.
Dynasonic : Natural Finish : Mid 1970's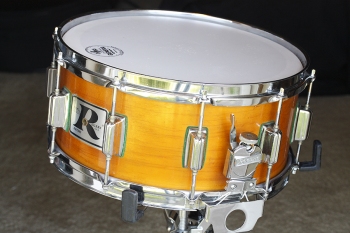 A "Big R" wood Dynasonic. This is a 6 by 14 in a natural finish. These later Dyno's are not as coveted as the earlier models. Rogers, as a company, was beginning its long slow slide into oblivion. Nevertheless, the company did make some fine instruments in the 70's. This is one of them
---
OTHER TOP-RATED SNARE DRUMS IN MY COLLECTION
Rogers : Black Onyx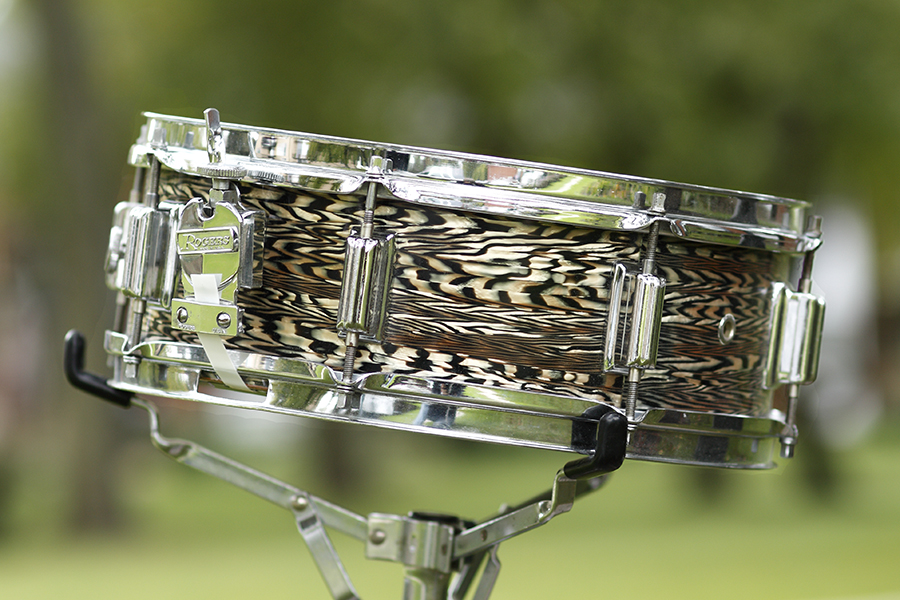 The Rogers Powertone snare drum was the workhorse of the Rogers drum line. Many kits came with this snare drum as standard issue. This particular drum is wrapped in a black onyx finish. It is part of a double bass drum kit with a single hanging tom and a single floor tom. There were 3 onyx finishes, red, blue, and black. Black Onyx is the rarest of the three.
Gretsch : Marine Pearl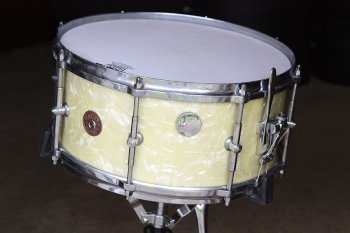 Known as the Aristocrat of snare drums, this Gretsch Gladstone is wrapped in White marine pearl, also known as Oriental Pearl. Billy Gladstone was a show drummer and inventor who came up with the two-way or three-way tuning that graced every Gretsch Gladstone drum.
Premier : Grey Shimmer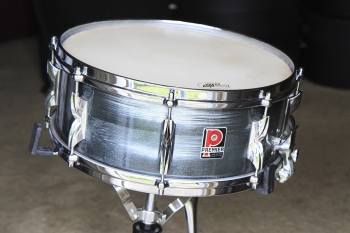 A Premier wood snare in Grey shimmer wrap. This model was known as the Royal Ace in Premier catalogs. It's part of a complete kit that includes an 8 x 14 "pancake" tom. This drum was purchased as NOS, (new old stock) from a drum store in the upper Midwest. These drums were fine instruments. The wraps were beautiful and the chrome work was second to none. I don't believe the Evans heads that came with this drum were as good as the Remo heads of the time.
Ludwig : "Ringo" Finish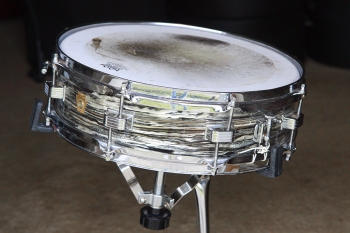 A Ludwig Downbeat piccolo in the "Ringo" finish. This is a great sounding drum wrapped in the Ludwig Black Oyster Pearl finish. As most of you know, this was the finish that Ringo Starr made famous. Many piccolo drums tend to lack bottom. That's not the case with this drum. Sticks, brushes, mallets,-- this drum responds to all of them.
Ludwig : Green Sparkle
A Ludwig concert snare with a standard strainer. This beautiful green sparkle drum was purchased from a collector in Buffalo, New York. I've played this drum in various settings. It's come through like a champ. The imperial lugs really look great against the green sparkle.
Ludwig : Super Ludwig 400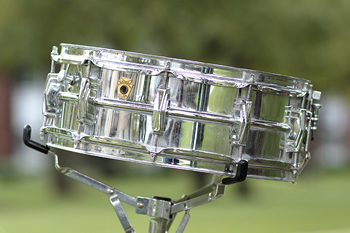 The Super Ludwig 400 is perhaps the most recorded drum in history. The early models, like this one, were made of brass. Later models were constructed of whatever metal was available at the time. In 1963, the name of the drum was changed to the Ludwig Supraphonic 400 or simply the "Super 4".
The list of famous drummers who used this drum is long and illustrious. It includes Joe Morello (Dave Brubeck), Buddy Rich, Ed Thigpen, and Hal Blaine. Rock drummers who played the drum include Dino Danelli (the Young Rascals), Mitch Mitchell (Jimi Hendrix), Charlie Watts (the Rolling Stones), Jim Densmore (the Doors), John Bonham (Led Zeppelin) Note: Bonham played the deeper 6 ½ x 14 model, Danny Gottlieb (Pat Metheny) and Johnny Badanjek (Mitch Ryder and the Detroit Wheels).

This list simply scratches the surface of the number of drummers who played the beloved "Super 4".

Rogers : Mahogany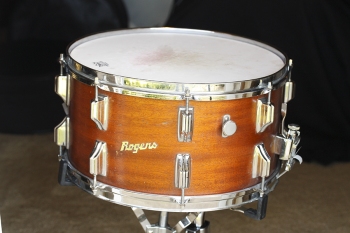 Somewhat of an oddity. This is a Rogers 8 x 15 Century snare drum in a mahogany finish. This is a concert drum that I've had very little occasion to play. Admittedly, It's not as responsive as a powertone or a dynasonic, but it's a fine drum.
Slingerland : Student Model Radio King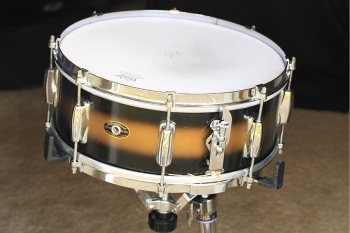 This drum was called a student model Radio King in the Slingerland catalogs. Unlike the more expensive Gene Krupa Radio King model, this drum was a three ply shell. It also had stick shredder hoops with clips. Despite it's humble origins, it's a fine sounding drum with good response.
Slingerland : Blue Agate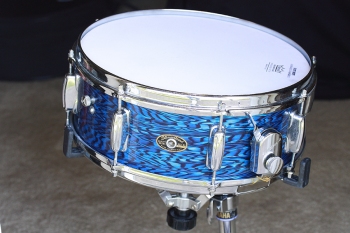 A Slingerland artist model in stunning blue agate wrap. These drums get short shrift in the vintage marketplace. It has the standard zoomatic strainer with Stick saver hoops. It's a fine sounding drum.
Sonor : Wood w/ offset lugs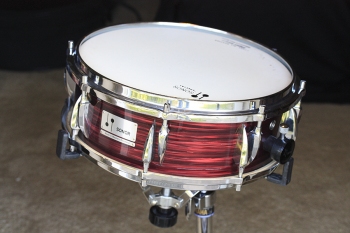 Sonor wood snare from the mid 60's. This model had offset tear drop lugs. I don't know what the wrap on this drum is called. It can best be described as a mahogany or "root beer" finish.
Camco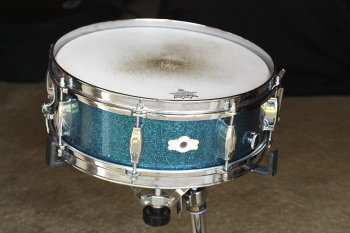 Camco drums have skyrocketed in value over the last few years. In the 60's, the company was a weak sister compared to Ludwig, Slingerland, Rogers, and Gretsch. They made a fine drum that has stood the test of time. Some famous players, among them Dennis Wilson of the Beach Boys, played Camco. The company simply didn't have the promotional heft that the other companies had.
Premier : Royal Ace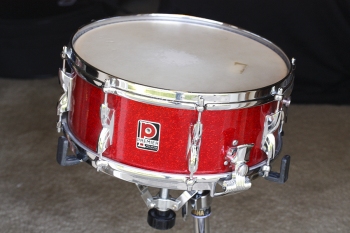 Yet another Premier royal Ace, this time in a stunning red sparkle. I remember the first color picture I saw of Keith Moon of the Who showed him sitting behind a red sparkle Premier kit. I don't believe he used a Premier snare drum , however.
---
DRUM SETS IN MY COLLECTION
Ludwig : Super Classic Drum Set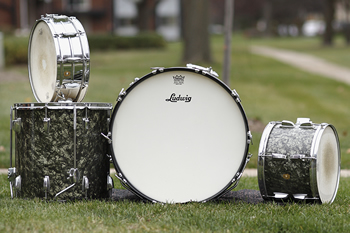 The Ludwig Super Classic drum kit was the drum set of choice of many teenagers in the 1960's. The drums weren't cheap. A complete kit listed for $465.00 dollars, but aggressive music dealers usually found a way to discount.
My father bought me this kit in 1964. As you can see, it's in fine shape—a little yellowing and a few nicks here and there, but otherwise she's ready to go.
The snare drum is the prize of this kit. There's nothing special about it....it's not made of brass. But the sound is another matter. She sounds GREAT. More than one recording engineer has remarked about it. I play this snare drum as often as I can. The sound it makes is such sweet music.

Ludwig : Black Oyster Pearl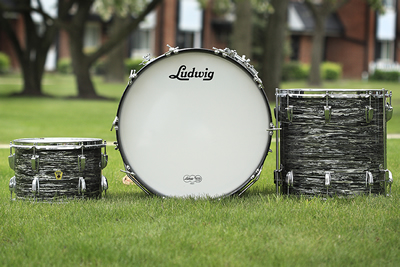 This kit is wrapped in perhaps the most famous drum finish of all time---Black Oyster Pearl. This is due totally to one Ringo Starr, who appeared on Ed Sullivan in the early 60's playing a kit in this color.
For many years, Ringo used the kit and has been filmed and photographed many times playing behind it. This particular model has the transition Ludwig badge, meaning it was made in 1959-60. It is in remarkable shape considering its age.
Unfortunately, I only have the 4 x 14 snare drum in Black Oyster. The 5 ½ x 14 wood model is very collectible, highly desirable, and difficult to find. Need I also add that it's very expensive!

Camco Drum Kit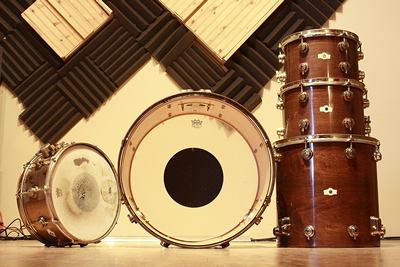 The Camco Drum Company was originally based out of Oak Lawn Illinois. The Company was small and didn't have the promotional muscle of Ludwig, Slingerland, Rogers, or Gretsch. The company went through various owners and eventually ended up in Los Angeles.
This kit was purchased in Los Angeles by Maury Baker, a very fine drummer who played with Janis Joplin, Tim Buckley, Judy Collins and on various studio sessions.
The set has the distinctive round lugs that Camco was known for. The Tom holders were similar to the Pearl Drum holders of the time. Camco drums have skyrocketed in value over the years. Many collectors search for these kits and pay top dollar for them.
Sizes: 22 X 14, 16 X 16, 9 X 13, 8 X 12, 6 ½ X 14 Brass Snare Drum, Walnut Lacquer Finish