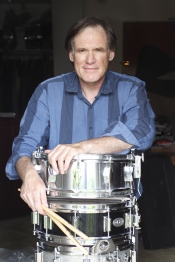 Jim Glay
CEO and Chief Drummer
Crash Boom Bam
My interest in the drums began at an early age.
I still remember racing downstairs to play my cowboy records and kicking the cedar chest in time to the tunes.
My mother had to drag me upstairs to eat breakfast. For me, there was nothing more important than hearing music to start the day.
At the age of 9, I pestered my mother to enroll me in drum lessons at the local music store.
My teacher, who's name I've forgotten, was more interested in smoking cigarettes than teaching drums.
I bought a drum pad and proceeded to work through the rudiments. Soon, I became bored and quit.
My interest never flagged. I couldn't get rid of my desire to play.
When I was 14, I approached my parents again. This time my mother's hair stylist directed her to a local drummer who taught out of his house. This was how I met Max.
MAX MARIASH
Max physically was a small man, but his personality and talent was huge. He had a hair trigger temper.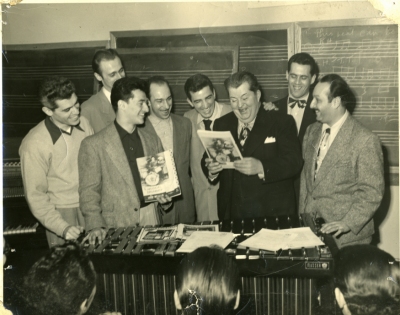 He was the NBC studio drummer in Chicago and played with the Art Van Damme quintet. He studied with Roy Knapp, who also taught Louie Bellson, Gene Krupa, and Mousie Alexander.
Max reminded me of the great Warner Brothers character Actor, Edward G. Robinson. He took no guff from anyone. He was a combination of a drill instructor and a zen master.
I remember him telling me " to go home, I was wasting his time," when I showed up unprepared for my lesson. At other times, he would circle the drum set while I played my lesson, giving me tips and advice.
He insisted that I buy a drumset, for he believed that one learned how to play drums by playing on a set, not a drum pad.
I still have all my old lessons from him and, as I look at his lessons today, I marvel at how far ahead of his time he was.
I still remember the look of recognition on Louie Bellson's face when I told him who my teacher was.
I firmly believe that Max was not only a great drummer, but an outstanding teacher as well.
This web site is dedicated to his memory. Without him, there would none of this--- no drums, no web site, no memories.
Special thanks to Max's son, Scott Mariash, a very fine drummer in his own right, for the memories and the pictures.
INFLUENCES
It was Rock and Roll that first turned my head inside out. Particularly, the New Orleans Drummer, Earl Palmer. He, along with Hal Blaine, really set my heart racing.
But then Max introduced me to all the great jazz drummers. Papa Jo Jones, Buddy Rich, Louie Bellson, Elvin Jones, Max Roach, and Tony Williams. Max also introduced me to lesser known, but talented players like Jack Sperling, Rufus Jones, and Don Lamond.
Rock music in the 60's had its own talented group. Players like Keith Moon, Ginger Baker, Dino Danelli, Mitch Mitchell, Ringo Starr, Jim Gordon, and Johnny Badanjek influenced me in various ways.
Pundits have had a field day talking about and describing the "turbulent" decade of the sixties. Opinions as to it's artistic and political importance are all over the board.
I have no desire to argue one way or the other. What I will say is that it was a great time to be involved with music and drumming. I experienced many of the great players in person, many times in some cases. Their influence still resonates through the decades. I feel very fortunate.
DRUMS
My first kit was a Ludwig Super classic in Black Diamond Pearl. It was a great drum set. In fact, it still is a great set-I use it on various gigs.
Over the years, I became infatuated with Rogers. I'm sure the fact that Earl Palmer, Buddy Rich, and Louis Bellson all endorsed the line had something to do with my interest. Over the years, I collected quite a few Rogers kits and snare drums.
But I didn't stop there. I began to collect drums from other companies. Ludwig, Slingerland, Camco, Gretsch , Fibes, Leedy, and Sonor all became a part of the collection.
Later on, I branched out and included Premier, particularly the models that included the "pancake" 8 x 14 hanging tom.
Some of these drums will be for sale on this site. Others will be for display purposes only. I feel it's time for me to share my love and enthusiasm for the drums that I have collected.
Perhaps it's middle age nostalgia, but so be it. The 50's, 60's, and early 70's were the golden age of the American and British drum companies.
Not all of the drums made at that time were great. I know. I've played some of "less great ones".
I also believe it's pointless to argue about the relative merits of vintage drums versus new kits. It's like arguing about the merits of a 57 Chevy versus a 2009 Chevy. The technological advances alone make the newer models in some ways superior.
But it's the sound of the drum that's important. There is just something about a 57 Chevy!